MĀ Wellness

Learn About our Yoga Studio and Wellness Clinic
Downtown Victoria Yoga Studio & Wellness Clinic
MĀ Wellness and Yoga Victoria BC
At MĀ Wellness and Yoga Victoria BC, we are a group of yoga educators, certified health practitioners, and sound healers. We provide an atmosphere where yoga students feel safe to explore themselves within their wellness
and yoga practice.
We recognize that each person will do their work in their way. We create a map to help discover personal power through the mysterious primordial energy that animates our world. MĀ is a place of healing,
love, and deep transformation.
Welcome, Home.
Enjoy this Restorative Yoga class and Sound Bath on the beautiful Pacific North West Coast of Canada.
MĀ Wellness and Yoga Studio Dragon Alley, Victoria BC
Download the MĀ Wellness
& Yoga App
Teachers at MĀ Wellness & Yoga
My story with yoga began unexpectedly in the basement of a worn down church when I was a teenager. The building was partially abandoned and surely condemned. I was driven there 10% out of curiosity and 90% to make my devout Christian mother uncomfortable.
Show More
Ten minutes later I found myself surrounded by people dressed in white, feeling light headed as the room panted, chanted, and rolled around like animals writhing in pain. My delicate adolescent psyche could barely withstand the "uncoolness" of it all. I began to ask myself if the pale look of terror I would receive from my mother when I told her I had joined a religious cult was worth it.
Two hours later I'm speedwalking to my vehicle trying to put distance between myself and what I had just encountered. I felt loopy, famished, and had just mustered all the dignity I had left "recreating" my own birth. The level of bizarre activity was something I had no intention of speaking of again and needless to say, I would not be returning.
The next day, however, I awoke with a lightness in my body and a freedom of movement through my spine that, at that point in my life, was an unparalleled sensation. To my surprise, I did go the following week, and the week after that. Before I knew it, these practices became a regular thing for me. I continued to explore other practices and I was struck by how different I continued to feel. Yoga became an invaluable companion to me through my early teens and twenties that drastically altered my life.
I became interested in teaching and apprenticed my first teacher in 2006 studying hatha yoga. I moved to India shortly after and began intense study in Ashtanga Yoga and philosophy, Chanting/Sound Yoga, and traditional Hatha with Lalit Kumar and Vinay Kumar as well as study in Ayurvedic Practices.
Inspired by Ayurveda, wellness, and movement I began to lead Ayurvedic retreats in Nicaragua for part of the year and took a position as a senior yoga instructor for the Himalaya Yoga Valley Teacher Training School in Goa and Dharamsala, India for the other part.
In 2011 I moved back to Victoria, BC to embark on the study of Chinese Medicine at Pacific Rim College and my perspective on yoga became rocked with the influence of Taoism.
In 2012 I established the Brahmanda School of Yoga. Since then, my fellow teachers and I have graduated hundreds of professionals in the practices of Yoga. The teacher training program has taught me so much about how to show up everyday, no matter what is happening, and how to hold space for people who are working hard to show up for themselves.
Opening the MĀ Institute has been a culmination of inspirations that have taken place on and off the mat. I am inspired by our ability to change forms in unpredictable ways and the grace that practicing yoga can give us in transitions. I am passionate about providing education that empowers the student and gets them to the place where they are asking the big questions about themselves. I believe in "straight talk" when it comes to learning about yoga and want to bring the teachers that are embodying the practices.
Ultimately, the fruit of the practices show up in our authenticity: in who we are, our clarity in how we approach our world, how we communicate who we are, and in our ability to love. I am struck every day by what a tremendous blessing it was to have walked through the doors of that rented church years ago with no intention at all of altering my world views. I guess you never know when a small act will veer you into a new course, and it's exciting to now hold a space that could have similar implications for someone else.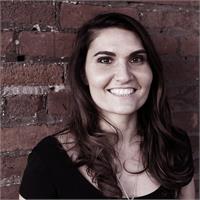 B. Joel studies the trika lineage and considers his teacher to be Mark Dyczkowski. Joel is a composer by trade and a filmmaker who works with people trying to save the world.
Joel is responsible for the gigantic speaker in the corner and the lovely shou sugi ban floors. He's pretty proud of the giant speaker.
CHANTELLE MUSSELL (SHE/HER)
I am one of the proud owners of MĀ Yoga. My introduction to the world of holistic health and wellness started at a very young age. My mom has always owned and operated a spa out of our family home, and she became a certified yoga teacher when I was in my early 20's. Deva Premal was always on repeat on the family CD player 😉
Show More
My love of yoga, meditation, and sacred sound healing began when I met MĀ's Founder, Katyanna Ryan. My first class with her–on my birthday no less–she sang mantras, played the harmonium beautifully, and guided us in Sanskrit through each movement. I was captivated. A few short weeks later, Katyanna, B.Joel (the other owner and co-founder of MĀ), and I found ourselves in Panama on an epic yoga retreat, and the seeds of our budding partnership were planted. B.Joel and I ALSO own a pretty spectacular film production company called Lot2.Media–fun, right? I took the 200 hour Yoga Teacher Training program through Brahmanda School of Yoga and discovered a deep sense of appreciation for the performance aspect of teaching.
I have been a musician for most of my life, and co-creating our urban musical wellness sanctuary has been the greatest blessing. I teach primarily Restorative Yoga with Sacred Sound and believe deep in my bones that making music while guiding restorative classes is precisely where I am supposed to be.
Sarada Pranav Jagannath is a yoga teacher, an Ayurvedic Wellness practitioner and holds a Master's degree in counselling psychology and social work.Sarada is currently completing her training as an Ayurvedic doctor. She was raised in the Ayurvedic tradition and educated by her grandfather, an Ayurvedic doctor who taught her yogic and Ayurvedic practices, and influenced her life's path with his wisdom, philosophy and teaching.
Show More
She went on to study extensively at the Sivanada Yoga and Vedanta Ashram, Kerala, India and at Swami Vivekananda Yoga Anusandhana Samsthana in Bangalore, India and has since taught in India, the USA and Canada. She has been offering Ayurvedic Workshops for the past 8 years in India, USA and now in Canada.
Sarada also offers private Ayurvedic Consultations, teaches Ayurvedic cooking classes,workshops and Marma Kriya.
Sarada is a co-owner of MĀ Yoga and Wellness and can be found teaching yoga and various workshops as well as in the clinic as an Ayurvedic practitioner.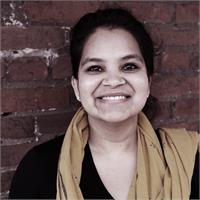 Pilar Munoz is inspired by the deep connections we humans can have with the world. Not just the physical of what our eyes see, but also what lives on an energetic plane, on this earth and beyond.
Show More
Pilar practices and teaches with sound vibrations to connect to that energetic plane of life. She believes that what we desire the most is to see our wholeness and to connect intimately with one another in this world – to see each other fully. She believes it begins first with yourself.
Pilar teaches from a place of curiosity and humour. You are encouraged and challenged physically, mentally and emotionally to showing up fully! Pilar's gentle and mindful guidance through postures creates safety for each and every student to intimately connect with their breath. This is the ultimate experience of life. She encourages students not to miss out on any part of their lives: the light and the dark and all the spaces in between.
She is joined on this journey by her two beautiful children who are both her teachers and allies.
Pilar's trainings include: Modo Level 1 (2011), Yin Yoga (2014), Vinyasa Flow (2014) and Sound Healing Training (2018 and 2019.)
DR. CARRIE WATKINS (SHE/HER) ND
Carrie Watkins works with yoga to encourage students to cultivate a deeper awareness of possibility through building strength and balance. She loves working with vinyasa flow sequences to deepen connection with the present moment through focus and breath.
Show More
Carrie has completed several yoga teacher training programs including Sivanada Teacher Training in Kerala India and Ashtanga Vinyasa training with the Yoga Sanctuary in Toronto. Carrie holds faculty positions at the Pacific Rim College where she teaches anatomy, physiology and pathophysiology as well as nutrition courses with the Holistic Nutrition program. In addition to working with yoga, Dr Carrie is an experienced and licensed Naturopathic Physician.
CARLEY DE GOEDE (SHE/HER)
I found a Yoga practice during a time in my life where I felt lost. Yoga helped guide me back to myself. My yoga mat was my safe space to feel into my body and emotions in a way I couldn't anywhere else.
Show More
My practice profoundly shifted my perception of my physical body and helped guide me to my first stages of Eating Disorder recovery. This shift of perception expanded beyond the freedom to live in my body, I learned to approach myself without expectation or judgement and how to let myself just be. That just being how ever you are is enough.
I gained so much healing from the teachers I practiced with and my doing my Teacher Training peeled back many new layers of self-acceptance, bravery and confidence that I didn't know were there. I found my voice. Upon completion of my YTT I knew I wanted to give back and offer the healing I had received from yoga. I consider myself a lifelong student of yoga and will forever be looking to deepen my knowledge of this beautiful tradition.
My teaching takes inspiration from all the teachers I have learned from and lineages I have been lucky enough to study which include Ashtanga, Iyengar, Traditional Hatha, Trauma Sensitive, Yin and Restorative yoga. Off the mat I am a Facial Reflexologist and Chinese Medicine Face Reader, I have studied the Lymphatic System and how to build Immunity through touch and movement, these things often flow into my yoga teaching.
The Canadian native is a globally renowned yogi, surfer and Blissologist who has been carving his original tracks through the metaphysical worlds of yoga, philosophy and movement since 1989.
Show More
Lauded by Yoga Journal as the "Thoreau of Yoga" for his eco-activism and dedication to connecting yogis more deeply to the spirituality of nature; and by Oprah as "one to watch," Finn's Blissology Yoga style centers on the simple idea of sharing happiness.
Eoin has studied Anatomy + Physiology at Harvard Medical School and Exercise Physiology at the University of California, Berkeley. While rooted deeply in yoga's therapeutic and transformative alignment and physiology, his down-to-earth, modern spiritual insights refresh like cool water. He firmly believes that to find bliss, you must "seek quiet solitude in nature."
A passionate ocean-activist, he started the Blissology EcoKarma project in 2014 raising aid and awareness through yoga and activism for the world's precious but imperilled coral reefs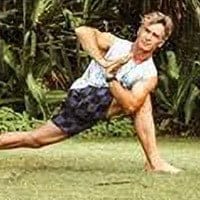 SHERRI DEV DHARAM (SHE/HER)
Sherri Bird, M.A., CYA-ERYT 500
Kundalini Yoga, Restorative Yoga, Sound Therapy
Sherri Dev Dharam's classes are practical, light-hearted, and reverent, and she loves to share the life-enhancing practices of kundlini yoga and meditation with others, from curious first-time students to long-time, dedicated yogis. She has been practicing kundalini yoga since 2007. She teaches in a number of Vancouver Island studios, and continues to expand her experience by studying and practicing with senior practitioners, teachers and peers.
Show More
Kundalini yoga includes movement, breath work, meditation and sound current. These practices stimulate and balance the nervous and glandular systems, allow the body to release tension and restricted energy flow, and free the mind from the effects of mental and emotional stress. The rejuvenating, relaxing, and elevating effects of kundalini yoga are enhanced by the experience of deep relaxation in the vibrations of symphonic gongs.
Gong-Journey Sound Healing
Sherri first fell in love with the gong during a yoga class many years ago, and has since become a devoted student, player, educator and sound therapist. She plays a variety of gongs during kundalini and restorative yoga classes, in extended community gong journeys, and in private sound healing sessions. She has traveled the globe to study and practice with gong masters/teachers, including Mehtab Benton, Don Conreaux, Sheila Whittaker, Philip McNamara, Mitch Nur, Michael Bettine, Jens Zygar, and Mike Tamburo. Her greatest teachers continue to be the sacred instruments themselves, who enable her to experience and explore new and unexpected realms during every daily practice.
The gongs' powerful, resounding tones create a unique, deeply felt experience for every listener. Their multi-layered vibrations permeate the body and quiet the mind. Gong-journey therapy is used to relieve physical and emotional distress, and to promote healing, deep-relaxation and overall well-being.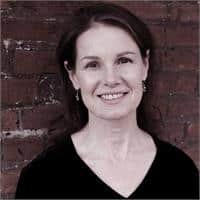 Tara landed in beautiful Victoria in 2017 from a 12 year stint living in NYC, and couldn't be happier! Her teaching has spanned NHL teams, teens, Broadway performers, to office groups offering classes that are powerful, soulful, and dynamic, while incorporating innovative, intelligent sequencing and functional alignment.
Show More
She aims to encourage body awareness, agility, and strength, while illuminating the peace and power that comes from mindfulness. Alongside Yoga, her work as a performer has taken her to stages all over the globe, and she feels endlessly grateful to continue sharing her "why" through movement and music.
Tara fell in love with this practice in 2001. By 2008 she began formal training with Rod Stryker's Para Yoga Vinyasa Certification (Mary Bruce and Johnna Smith), has continued with trainings, immersions and inspiration from: The Iyengar Institute, Laughing Lotus NYC, Kula Yoga NYC, Moksha/ Modo Yoga, Sivananda, Janet Stone, Carly Forest (Yin), Christine Price Clark, Ryan Leir, Natalie Rousseau, Dina Tshouluhas, Witold Fitz-Simmons, Ted Grand, Jessica Robertson and will be a student for life!
Along with music, Tara is passionate about mentoring new teachers and is honoured to share a practice that has brought so much courage, joy, and freedom into her own life, and intends to bring light and authenticity to all she does. For info on upcoming retreats, events, workshops, mentorships, and teacher trainings visit www.tarahealyoga.com
ANDREA TING-LUZ (SHE/HER)
Laurel invites students to experience all aspects of their lives on and off the mat. Encouraging those in her classes to be curious about what is showing up for them. Offering space for the darkness as well as the light. With a 25 yr history of work in the field of trauma and mental health,
Show More
I found myself wanting to dig deeper into every aspect of the yoga universe.
After ten years of dedicated practice, I embarked on the teaching path in 2011, delving into my 200HR teacher training with Eoin Finn | Blissology.
In addition to offering creative vinyasa classes, I also integrated my love of yoga, dance, and rhythm teaching BellyfitT and BellyfitT Flow, founded by Alice Bracegirdle. I deepened my love of yoga mythology and history, and refined my teaching voice, bservation skills, storytelling abilities studying with Natalie Rousseau from 013-2015. In 2018, I completed my 300HR Advanced Teacher Training at Semperviva Yoga in Vancouver, focusing on Vinyasa with Clara Roberts-Oss, Restorative Yoga with Tianne Allen, and Yin Yoga with Bernie Clark.
These days I teach weekly classes in Victoria, BC and globally online, offering inyasa, Hatha, Yin and Restorative. I have contributed to Natalie Rousseau's online course "The Professional Yoga Teacher", offered workshops for teachers at the Victoria Yoga Conference, and facilitated advanced teacher training modules.
I guide teachers to "Amplify Your Voice" – to refine teaching skills, hone confidence as an entrepreneur, and establish a"brand" as a yoga teacher. I also teach Sequencing, Vinyasa, and Leadership.
Connect with me at www.andreainblissyoga.ca or www.brandyourbliss.ca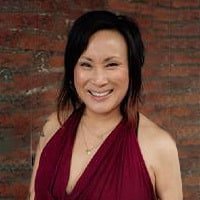 Andrea Ting-Luz, E-RYT500 | Yoga Educator & Brand Storyteller. I endeavour to life my life in such a way that the light inside of me ignites the light inside of others.
I first landed on my yoga mat in 2001 nursing injuries sustained from years of dance, my ego firmly leading the way. As I settled into my first savasana, my ego dissipated into the bliss, and I was instantly hooked. As my practice deepened and I became more attuned to the connection between my body, breath, and mind.
Show More
Laurel welcomes those around her to experiment with the yogic tools they learn in class and see who these may support them in their lives. Laurel incorporates sound healing instruments into her classes as often as possible and has a deep personal connection to the healing that can result from these vibrations. Laurel has training in Kundalini Yoga, Restorative Yoga, Mindful Strength, Yoga Detour Method and Trauma Informed Yoga.
All of Laurels classes reflect a trauma informed perspective and she is deeply committed to offer a practice where all humans can feel as though they have a space. Laurel is a third-generation settler here on Lekwungen Territory and has ancestral roots in Ireland, Scotland and Finland. She is committed to lifelong learning around how to honour and respect the roots of yoga when teaching, and she is always up for a conversation about how to be more trauma informed when you teach and share space with others.
"May the long time sun shine upon you, all love surround you and the pure light within you, guide your way on."
Nyk Danu (C-IATY, CYA-ERYT 550)
Therapuetic Yoga Teacher,Yin Yoga Teacher Trainer
Nyk believes Yoga has the power to transform lives and change the world. That if you can breathe you can do Yoga. She believes Yoga makes life better.
Show More
Her mission to make Yoga accessible to people who don't think they are 'yoga people'. Nyk is an expert in teaching those who aren't human pretzels.
As a Yoga Therapist, her specialty is helping those who have Back Pain.
Her personal practice and her Yoga classes are rooted in Buddhism, Taoism and Traditional Chinese Medicine.
Nyk has been practicing Yoga since1998. In 2003 she decided to deepen her study and took her first Yoga teacher training and has been teaching Yoga since 2004.
In 2007 Nyk fell madly in love with Yin Yoga and has been studying with her teacher Paul Grilley ever since.
In addition to numerous Therapeutic & Restorative Yoga intensives, she holds the following teacher training certificates:
– 300 hour Yoga teacher training – The Yoga College Of Canada – 500 hour advanced Yin Yoga Teaching certificate – Paul Grilley – 1000 hour Yoga Therapy Certification – Ajna Yoga College
Nyk has also completed 2,300 hours of Chinese Medicine studies and 360 hours additional Bio-medical studies at Pacific Rim College.
Scott has been sharing his passion for health as a yoga teacher, movement therapist, acupuncturist and health educator for the past two decades. He integrates therapeutic traditions, contemporary approaches to health and the latest research in biomechanics and human movement in ways that are clear, accessible and results-based with a balance of authenticity, humour and depth.
Show More
He was first introduced to yoga and meditation by his parents at age 6 to help deal with his hyperactive mind. Later he went on to study yoga more extensively in India in 1995 and then with his most influential teachers Ron Reid, Diane Bruni, Chuck Miller, Maty Ezraty, Judith Hanson Lasater, and Aadil Palkivala.
His main yoga practice for 15 years was the vinyasa of ashtanga yoga, while over the years growing his teaching with the alignment and precision of iyengar yoga, the balancing of qi gong and breathwork, the restful qualities of restorative and yin yoga, and more recently mobility work and functional movement to create a more comprehensive practice of movement aligned with the core principles of a well-rounded yoga practice.
Scott is originally from Ontario, where he ran his own school of yoga, Octopus Garden Holistic Yoga Centre, training and mentoring hundreds of teachers for more than 13 years. He moved to Victoria with his family in 2020 to be closer to nature and the beauty of the west coast.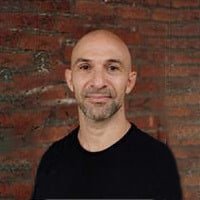 KAILEY ROBINSON (SHE/THEY)
Kailey is a passionate instructor, who will make you sweat, smile, and say "Soup?". A practitioner since 2011, I began teaching in 2020 after completing my Ashtanga YTT certification, then in 2022 my Pilates teacher training.
Show More
I have had my classes described as doing yoga with your new best friend. I pride myself as a mobility and movement nerd, although this was not always the case. For most of my younger years, I viewed activity as something to avoid at all costs. Yoga challenged that way of thinking and ultimately changed my relationship with my body and mind. My hope as a teacher is to help others find that same sense of relief, and enjoy the practice. Regardless if you are new to yoga, or a seasoned yogi, you will find something to love in my classes, be it a new song, shape, or pun.
My approach to mindful movement is about freedom of expression, intention, safety and fun. If you are looking to build strength, gain flexibility, practice mindfulness or just lose yourself in a flow as sweet as honey, then look no further. These practices are designed to meet you where you are at in the ever-changing landscape we call life, so even if you needed to come to class for a good cry, or nap, know this is a safe space to do so. You can expect inclusive language accompanied by functional sequencing, cheesy jokes, opportunities to challenge yourself and always time for deep relaxation.
Adele Worobey was first introduced to yoga as a young girl and the physical and spiritual practice has woven in, out and through her life since.
She has studied many different styles with many teachers. The richness that yoga brought to her life inspired her to share with others, leading her to complete her teacher training in 2005.
Show More
She was on the faculty of a Teacher Training Program from 2008-2020. Adele's training and 25 years as a Counsellor and Therapist with extensive experience in trauma, depression and anxiety bring depth, compassion and warmth to her teaching.
Adele's classes blend mindfulness, relaxation, body awareness and detailed alignment to find strength and space students may otherwise not have known was available to them, while always maintaining safety and comfort for people of all abilities.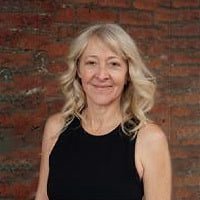 CHARLIE GATES (THEY/THEM)
Charlie (they/them) is a queer sound practitioner, movement guide and storyteller living unceded Coast Salish Territory of the Lekwungen and W̱SÁNEĆ nations. Their offerings are invitations for space-making, deep listening, and re-enchantment through sound meditation, storytelling, and supportive movement.
Show More
They believe the practices of movement and meditation exist not just for the individual but as tools for resiliency, tenderness, compassion for the collective; offering ourselves to each other as allies and activated beings. For the last 10 years Charlie has offered sound experiences and immersive sound trainings both in Canada and Internationally, as well as movement and music based retreats. They are a slinger of lullabies and believe that sound is a potent, powerful meditation form that can help with the process of regeneration and nourishing our imaginations.
Instagram – @soundsbycharlie www.soundsbycharlie.com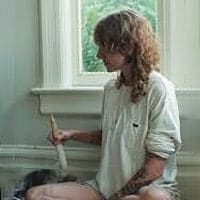 Yoga is truly a way of life; a path for a beautiful and meaningful life. My teaching philosophy is to provide a safe space for the yoga practitioner where people can come as they are and enter into the present moment.
Show More
A space where you can come out of the mind and enter into the physical body; letting go of all judgments and to just be. The practice of yoga itself is truly the teacher and I am the guide who offers suggestions.
To me, it's all about awareness. Yoga encourages us to move with mindfulness, compassion, and intention and that transfers over to almost every aspect of our daily lives. Through this practice, we gain insight into the fluctuations of the mind and gain an understanding of how to manage our deeply woven habits. It's about learning and practicing on the mat so we can enter into our daily lives with the tools to move through our day with fluidity, strength, compassion, and love.
My positive approach to teaching provides for a playful atmosphere where I weave together free-fluid movements with the sounds of the breath while always coming back to intuition. I enjoy flowing through funky transitions and settling deeply into a shape allowing the asana to fully encompass the body. Through these transitions and asanas, I will attempt to guide the class to discover these new depths, kind of like exploring the deep sea. My intention is to give students the feeling and experience of oneness, wholeness, connectedness and to cultivate a positive state of being.
My professional background lies in nature and forest connection and I often bring these "natural" aspects into the class. Whether it's placing our awareness on the elements within us or building a sequence like building a fire, it's all connected.
EM SCHNURR (she/her)
Emily teaches with strength, passion, and fire. She inspires the practitioners in her classes to dig deep using breath to find the balance between exploring new edges, having no expectations, and staying present.
Show More
Her intention behind every class is that people show up and do the work on the mat so that they can live a more authentic life off the mat.
Emily sees herself as a student first, and finds her own courage and strength by the challenges and teachings from her personal practice.
INSIYA RASIWALA-FINN (SHE/HER)
Insiya Rasiwala-Finn is a Yoga Teacher, Ayurvedic Coach and writer who grew up in Bombay, India with Yoga and Ayurveda impacting her life since she was young.
Insiya is known for her lyrical and vibrant classes; a first-person East-West perspective in her teachings; and the ability to make the ancient wisdom of Vedic India present and alive.
Show More
She is passionate about allowing the practice of yoga to offer a container of expansion, truth seeking and connection to community. Insiya has been featured in Yoga Journal Magazine, the Globe and Mail; and has presented internationally at festivals such as Bali Spirit and Wanderlust and locally at the Victoria Yoga Conference.
After years of struggling with mental patterns of depression and anxiety, Jen's earliest experience with Yoga began after she decided to try an alternative to psychotropic medications. In 2012, Jen began learning yoga by practicing with teachers on Youtube, and eventually fell in love with the dance of movement and breath.
Show More
She promptly began her search for a YTT program, and discovered the Sattva School of Yoga in Edmonton AB soon after.
After graduating with her 200-Hour certification in 2016, Jen taught using the "Sattva Method", and has shared her practice around Alberta and British Columbia over the past 6 years. Since moving to Vancouver island in 2020, Jen has expanded her teaching to include functional movement, Yin, and tensegrity-focused yoga.
When she isn't at the studio, Jen enjoys reading and writing poetry, spending time in the woods or by the sea, petting cats, decorating, and getting tattoos.
Jen hopes to serve others by creating a safe container for her students to acknowledge the paradoxes of life, and offer tools on how to use the body as an avenue for comfort, curiosity, and joy.
MARISHA SCHAEFER (SHE/HER)
Yoga has been my rock, guiding me through many obstacles. Diagnosed with complex ptsd, I have struggled with debilitating anxiety, depression, and addiction. After a complete life burnout, I quit my job, left Vancouver, and went travelling for a few years. Upon landing at a mindful retreat center in Thailand in 2014, I got sober (woohoo) and took my first 200hr YTT.
Show More
My other passion is sailing. After reaching far flung tropical islands, I woke up one day and said "Fluff it! I'm going home to teach yoga and sailing… must be on an island!" So began the embarkment on my heart's path here on our magical island.
I studied Mindful Yin Yoga with Jennifer Raye. I took another 200hr YTT with Jonni Lyn and Sarada in 2020. Who then led me to MA. In 2 words: life changing. The wonderful teachers and community at MA have supported me in my journey to more embody the divine. I'm honoured to share space with you. May we all find more ease in our lives, one breath at a time.
Val Lange (she/her) has been practicing yoga through the ups and downs of life since her first class in 1998.
Show More
Yoga has been a healing practice during times of extensive aerial silks training and recovery from debilitating health challenges. She completed a 200 hour teacher training certificate in 2014.
Val holds a masters degree in Expressive Arts Therapy and works as a Counselor providing safe space for women. She is also a massage practitioner and has a deep knowledge of body systems. Val is honored to bring to MA Yoga her passions for embodiment practices, circus art and therapeutic movement.
For more information please contact me at: https://www.aerialartstherapy.com/
Sarah is a dedicated yoga student and teacher, passionate about making the practice accessible, personal and relevant so that students can embody yoga on and off the mat. Sarah began practicing yoga in her family's basement 25 years ago and it quickly became a full-blown passion!
Show More
She explores the practice of yoga as a moving meditation and infuses her classes with devotion, philosophy and strong sequencing. Sarah has been a story-teller since childhood and weaves her love of mythology and language into her class offerings, encouraging students to explore and the principles of the practice from the inside out.
Sarah's classes offer opportunities for exploration, progressive movement and introspection.
An educator since 2009 and a teacher trainer since 2015, Sarah is committed to empowering students and co-creating transformational, experiential learning. She is an E-RYT 500, YACEP, and has Advanced Certification with Jivamukti Yoga.
Sarah spent 6 years as the lead faculty for Semperviva Yoga's 200-Hour Teacher Training, along with leading immersions in mantra + mythology, physical assisting, vinyasa training and teacher development.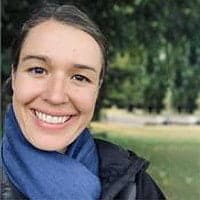 A Somatic Experiencing® Practitioner in training and Certified Life Coach. Tracy came to Victoria, BC in 2019 from a remote Northern community. Her ancestral roots are Dene Tsaa in the traditional territory of the Prophet River First Nation.
Show More
Tracy's yoga practice began in 2017 during a life transition and was seeking a place to embrace the many layers of challenges that come from the awakening spirit. The practice held grounding foundations to move through the layers and come home to herself. Leaning into the intelligence and wisdom of the body, Tracy seeks to guide her class through movement to begin the dialogue with the physical body and breath.
Through the practice, there is an opportunity to tap into the sensations allowing the Somatic wisdom guides us on and off the mat, where we can soften the mind and connect to our heart, physical body and emotional body. It has been this guidance for Tracy in her personal journey, building upon the sensation awareness, has served as the foundation for increasing resilience and well-being.
A student of life, and leaning into the lessons that experiences can bring, I will bring curiosity, compassion, and openness to each class.
Chantelle understands the human spirit. For more than a decade, she was an elementary school teacher in underprivileged neighbourhoods of Detroit, MI, Brampton, ON, and London, ON. In her own life, she has faced trauma related to domestic violence, obstacles of marginalization, and setbacks due to deep personal losses.
Show More
Her life turned around in 2001 when she met her first yoga teacher from India, who practiced Sri Sri yoga. Impressed and intrigued with the positive impact the classes had on her life off of the mat, Chantelle dove deeper into the philosophy of yoga and Eastern wisdom. Five years later, she left her teaching career to begin studying with various Master Yogis from the Sivananda lineage in Canada, U.S.A. and India.
She completed the 200hr and 300hr teacher training with Yogi Hari Sukhu and a 300hr yoga intensive in Kerala, India, with Swami Nitya Kandath, both former students of Swami Vishnudevananda, the founder of Sivananda yoga. In 2013, Chantelle launched her own corporate wellness company, Prana Yoga & Wellness, and in 2016 she became a teacher on the Insight Timer meditation app. While the pandemic deeply impacted
Chantelle's corporate portfolio, she quickly began teaching privately online and received several referrals for clients diagnosed with PTSD. She enjoyed this work immensely and was inspired to begin her master's degree in counselling psychology, which will be completed in December 2023. Having moved to Victoria in 2021 with her family, Chantelle is relatively new to the area and is excited to contribute to the MÃ yoga community.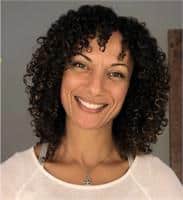 DANIE BEAUBIEN (THEY/THEM)
Danie is a newly certified yoga instructor who has been practicing yoga asana for over a decade. In their teens and twenties, Danie felt a deep disconnect between their body, mind, and purpose, but found solace in the physical practice of yoga. Through their recent completion of their yoga teacher training at MĀ Yoga, Danie was able to deepen their understanding of self and connect to being present in their body.
Show More
With a joyful and encouraging teaching style, Danie strives to create an inclusive and welcoming environment for all students, challenging them both physically and mentally while encouraging them to listen to their bodies and modify the practice as needed.
Danie believes that yoga is not just about the physical practice but also about cultivating mindfulness and inner presence, and hopes to inspire others to find joy and balance in their lives through movement, breath, and the teachings of yoga.
Zu (they/them) has been connected to their spirituality since a young age. Growing up with the experience of being largely dissociated from their body, Zu was left to settle into a deep connection with their inner self.
Show More
In tandem with medically transitioning and the arrival into their body, asana has become something they have started to engage with as a practice over the last few years. Experiencing life as both a transgender and queer person, yoga has helped Zu to rekindle the severed relationship between mind and body.
Inspired by the experience of connection of all sorts, Zu's offerings include fluid sequencing with a focus on breath, embodiment, compassion and arrival. For Zu, teaching yoga is a collaboration between everyone in the room. As such, Zu considers themselves a life long student and is invigorated by the cyclical nature of giving and receiving, arriving and expanding.